I'm really thrilled to have Sybil back with another guest blog post, with her perspective on our very first shoot together back in the day…Thanks, Sybil, for the nice description of what really went on and for all your nice words!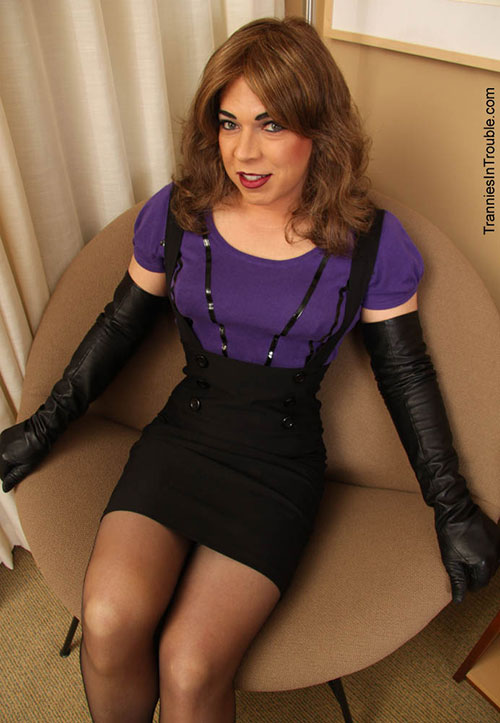 I really haven't done that much bondage modeling…Before I met with Sandra the first time, my resume was very short! I had shot with Jean Bardot in her studio, but Jean was definitely the feature in those shoots (and rightfully so!). Shooting with Jean also had more of a latex fashion and BDSM angle for her website at that time. Other than that I had some bondage pictures taken of me at home or at parties or during private play while I was tied up, but those pics were not for the purpose of being sold, distributed or anything like that. Those times I was tied up, I was tied by people I knew very well and vice versa, so there was plenty of trust and comfort there.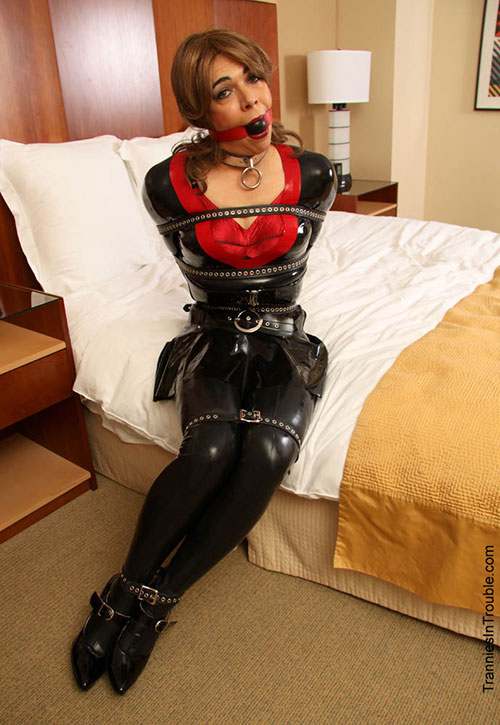 So when I contacted Sandra to arrange for our first shoot together in Hollywood, this legitimately was my first bondage modeling shoot! I was really nervous when the day came – not at all about personal safety – I just didn't want to make a fool of myself or waste Sandra's valuable time in not being able to produce usable content. I had so many thoughts which I laugh about now…Thoughts like, "What if I get really excited and there is a wardrobe malfunction? What if Sandra molests me, how should I react? What if I can't take the bondage and have to end a scene prematurely?" But it turns out I had nothing to worry about, I could have only dreamed of Sandra molesting me or doing something inappropriate, and we would have laughed off just about any other situation we would have encountered.
Before we met, I tried to warn Sandra that I was basically a novice, but she was very encouraging and really made me feel confident as the time approached. She did an excellent job of setting expectations from the beginning; she took a very professional approach. I knew to expect paperwork, how much time it would take, how the content would be shared/used, and had a pretty good idea of what the scenes would be like.
I was staying at the Renaissance hotel in Hollywood with Jean on this visit from Minnesota, about six years ago, and Sandra thought it would be fun to shoot there, so we made that our plan. When Sandra showed up, she did all the hard work of setting up lighting, arranging the background, and laying out all the gear for the shoot – all I had to do was try to look my best! Sandra was very calm and confident; she obviously had tons of experience and had no trouble making decisions that I would have struggled with. It was just the 2 of us, Jean had a client at a local dungeon and would likely come back sometime while we were shooting. Sandra and I made small talk for a bit, discussed the first scene, and then she started doing practice shots, testing the lights, we were shooting!!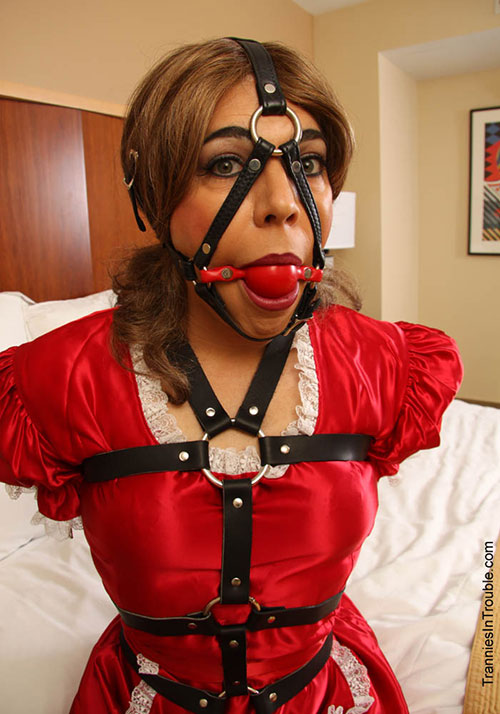 I had followed Sandra's site pretty extensively for the past couple years before this, and I loved the classy nature of her site, the sexy secretary looks, and the way she could make girls look teasingly sexy. So for our first scene, I chose to wear a tight black skirt with suspenders with a purple top, which I thought would be right in line with the styles I'd seen on Trannies in Trouble. My intention was to have the welts of my stockings showing, maybe even the tops of my stockings if the skirt rode high enough during the shoot. I love that look – it's something Sandra does amazingly well in her shoots. Underneath the skirt, I was tucked really well with a black satin gaff and I wore a 26" Versatile Fashions corset, laced very tight with 8 garters pulled snugly to the Secrets in Lace nylon RHT stockings, which had an imprint on the welt. I used medical glue to attach the silicone breast forms to my chest – I did not want those sliding around that day and peeking out around the black lace 36C bra! I wore a pair of 5.5" heels which I had custom made with a thick leather strap over the arch. These pumps are really difficult to remove when that strap is tight. And I wore leather gloves, my favorite for bondage – I love the way they look and feel as they protect my wrists while making it a little harder to undo knots.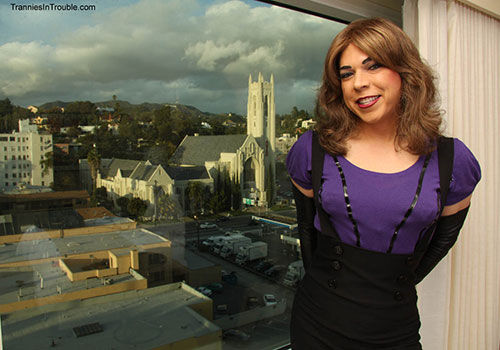 So the first shots were "glamour" shots and we got some sitting, then standing, and we tried to get a shot with the Hollywood sign in the background. I had no idea how to smile while making it look natural, no clue how to pose, it felt like my first time being in front of a camera, so I kept looking for feedback from Sandra. She was great, she started saying right away, "oh that's nice, these are going to be great. Love the lighting. The outfit looks fabulous." She knew I was nervous and she did a great job of building up my confidence. I was just praying the pics would come out as good as she was telling me.
After a few dozen of those shots, Sandra just said very casually, "Ok, well let's get you tied up now." OMG! I was so excited and scared! I sat on the edge of the bed and she started tying my ankles, and we were chatting the whole time, telling stories, discussing the things we liked and getting to know each other better. Sandra used a magician's rope, soft cotton and it felt wonderful as she circled my ankles and cinched them snugly. The rope grabbed nicely below and above my knees, even though I was wearing some very slippery nylon stockings. She knew she had to cinch those ropes very tight to keep them in place; my legs were locked together and it felt fantastic. Sandra then asked me to turn to the side and put my hands behind my back, and at that point I knew my freedom and control were going away for a while. Sandra circled my wrists three or four times, the rope was threaded between my wrists and then with a firm pull, my wrists were tightly cinched together and Sandra was in complete control. I had no idea when Jean would return, I was on my own, I was the damsel in distress, my favorite fantasy was on! She added some ropes to my elbows, around my chest, did a little cinching on the chest ropes and there I was, inescapably tied up.
I tested the ropes a bit, but I was helpless. There was no slack in any of the ropes and yet it was very comfortable – I could have stayed in this bondage all day. Sandra had me hop over to the chair and then came the matching purple ball gag, what a nice touch! She pulled the gag pretty tight, enough so that I would not be able to get it out of my mouth. I was starting to get a little excited at this point, but that's when I found out that this was actually work! Sandra directed me to do a number of things to create the image she wanted. I had to sit in certain postures and put my legs in a variety of different positions, which I found to be very challenging while being tightly laced into the corset and mixed with the tight bondage. I needed all of my core strength to keep legs out in front of me with my toes pointed while sitting on the edge of the chair. I broke into a bit of a sweat a couple times, but Sandra always recognized it right away and patted me down with the kind of care only an experienced tranny in trouble would understand
After a lot of shooting, Sandra abruptly said, "ok, we got some excellent shots, let's get you untied." And that was the end of our first shoot, just like that. She didn't rape me, there was no play session, I didn't have a wardrobe malfunction, there was no panic attack or anything that pushed my beyond what I was capable of or willing to do. Sandra intentionally made this a quick, easy shoot to build my confidence and see how I did, so there was no video, no hogtie, no bdsm or tickling…She untied me and I think I babbled incessantly after she ungagged me, I was on an endorphin high. Once we all agreed the first set was a success, we started working on the next two…Jean returned from her session, and we had a blast doing the next two set-ups.
Sandra gave me a copy of all the pictures immediately after we were done; I was so glad to have them right away. We had agreed to share content vs. having Sandra pay me for the shoot and owning all the content. Out of respect for Sandra's business, I only posted two pics from the shoot, and I made sure to tag them all with TranniesinTrouble.com to be sure I was doing my best to drive traffic to her website. Another reason I have always enjoyed working with Sandra is that when choosing what pics to feature from a shoot, Sandra has an uncanny knack for picking the same pictures I like. There have been times I have shot with other folks and thought, "omigosh, why did they choose to publish that shot??" Not that I am complaining though – different people obviously have different tastes and preferences, and I totally get that – it's good to understand other folks' perspectives and tastes, so even if it isn't my favorite angle, I'm still honored when people choose to share a photo of me. But Sandra and I have very similar tastes in that regard; I know she is going to make me look good! And that is the reason I will always cherish any opportunity to shoot with this fantastic lady – she always makes me look good, better than I think I'm capable of. Thank you, Sandra, and everyone who has supported TranniesinTrouble.com over the years! xoxoxo