I posted this magazine cover a few years ago when I wrote about Mr. K., who took the photos in it, and today I'm sad to report that he passed away yesterday, Friday, January 13th, in the hospital back east in New York state near where he lived. He'd had some health problems the last few years and the last time I spoke with him he sounded weak but I still hoped he might get to go home. He even talked about going to FetishCon later this year.
(continued below)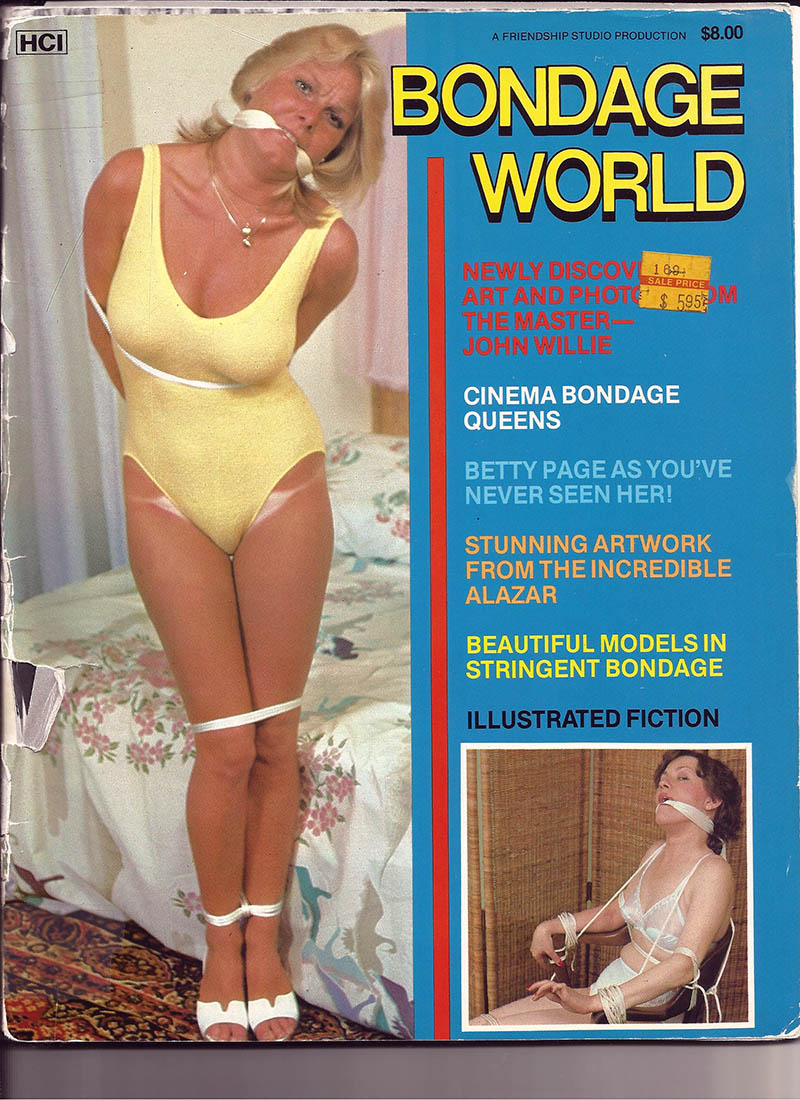 He was a huge fan of damsels in distress and especially loved crossdressers in bondage. I know he met quite a few of us for bondage and photos, including Audrey Miller, Babs, Babette Jones, Jenny Page and others. And he was an active photographer in his own right and shot pictures for several years in the 80s, especially for Friendship Studio, who published the magazine above. He never talked much about those days and I always had the feeling that there were maybe some regrets or disappointments from those times. And I always found it a little sad too that he wasn't better known, as though his moment had passed – isn't that life? But he was a great guy and had a huge heart, a truly sweet man who loved what we do in the kink world.
To be honest, I really only got to hang out with Mr. K. a few times, I think three total. But we stayed in touch over the years and I always recognized his New York accent immediately when we'd talk on the phone – and I'm not a big phone person but with him I always tried to make an exception, not always as well as I wish I had. He'd call me by my boy name on the phone and always seemed to see my Sandra side as a distinct personality, almost another person, which was kind of cute. He admitted he wanted to do naughty thing to me as Sandra but coming from him it never seemed weird or creepy and he was always a total gentleman the few times we did shoot.
My memory is a little foggy now but I believe we shot two separate days with SweetTies back in 2001 (see pic below). One memory that really tickled me was getting ready Sunday morning for the shoot and Sara from SweetTies telling me that Mr. K. was away at mass but we'd start shooting when he got back. We never talked much about his religious beliefs but I'm pretty sure he had no guilt about being into bondage and CDs. I just thought that was really cool, since for some people it's a struggle. Then a few years later I saw him in Newark, I believe, for a couple evenings of shooting at the Hilton by the airport. And that was in 2006, the last time we were ever in the same room together.
I always figured this day would come, for he'd been in the hospital a few times and put on and then rapidly dropped a lot of weight in the years following the picture below, which he sent me with his face obviously obscured just a wee bit. I don't think he'd mind that I'm posting it here :-) I do wish though that I had more of his magazines. I just looked around and dug through my closets but this old dog-eared copy of Bondage World is all that I can find. If you have any more of his pictures or scans of his magazines online, especially the "Bondage Babe" issue or the "Tanya in Bondage" issues, feel free to email me and maybe I can do another blog post later.
Rest in Peace, Mr. K. You will be missed, my friend.