Just last month I shot two custom videos and had a lot of fun with them. In the past I never really did them very often because I wasn't confident I could pull off the customer's vision properly and give them what they wanted. But during the pandemic I started doing more of them when I felt like I could pull it off.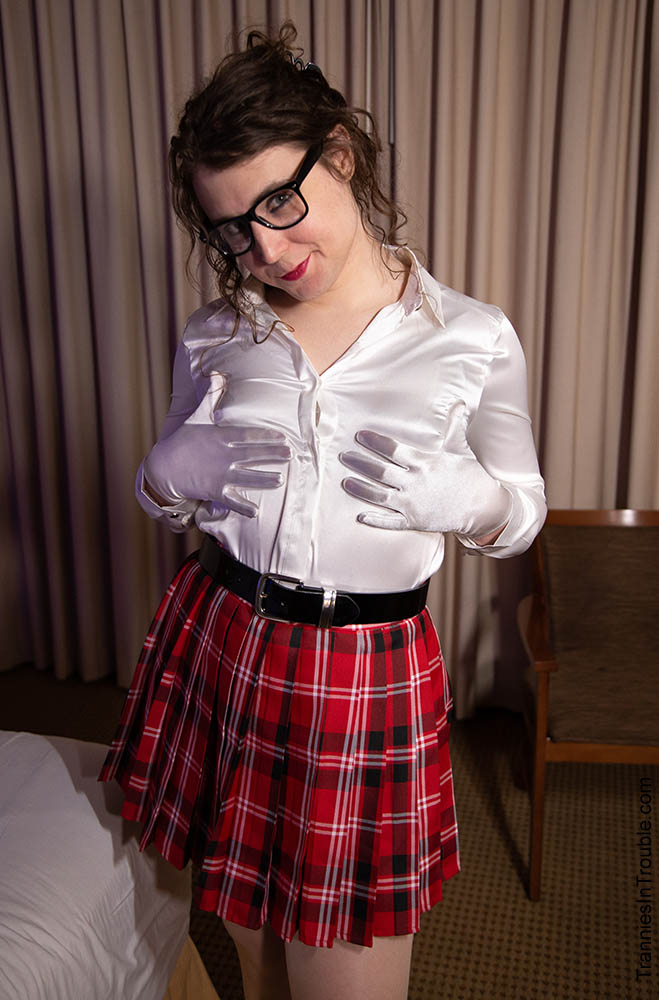 One of my favorites is the recent video with Klintelle Moore interviewing a potential new tutor for her college studies. Klintelle has shot quite a few hardcore videos and she's always game to shoot the racy stuff, plus she's a great actress and fun and easy to hang out with. The storyline was quite involved, and it turned out to be a long epic shoot but Klintelle stuck with it like a pro. I think it turned out really sexy, and very dark and twisted, and the emails I've gotten have all given it a thumbs up.
Klintelle also appears in another custom shot last year which will probably be on the site in a month or two. In that one she plays a naive trans girl who fails to pay off her student loans and gets a visit from officer Sandra. Both of the videos with Klintelle are pretty racy and end with her orgasming onscreen, which is a first for T's in Trouble.
Custom videos usually cost $150 if it's a storyline that I feel I can pull off with the group of models that I work with and then use later on my site – I usually wait three months before I post it for everyone to see (although the last customer very generously didn't mind if I posted it early). If it's a concept that wouldn't fit in on the site, well, then of course it would cost much much more.
But if you have an idea that you'd like me to consider, feel free to write me directly and I'll give you my honest opinion as to whether I feel I can make it happen. If it's having a girl grabbed off the streets of downtown L.A. and taken away in a van to a hidden cabin in the mountains where a group of cultists tie and abuse the poor gurl and then suspend her by her wrists over a boiling cauldren – well, it's probably not gonna happen! But even if I don't feel I can pull it off, I always love to hear ideas for inspiration for new videos. Sometimes I like something so much that I end up shooting parts of it even if I don't feel I can make the entire storyline work. Feel free to write though if you have an idea you'd like to see, or even if you have a storyline you'd just like to suggest, custom or not – my email here.