After tying up and photographing so many models for Trannies In Trouble I can say with certainty that bondage modeling is tough. From appearances I know it looks pretty easy – you get tied up and gagged, you make some "mmphing" sounds and struggle a little. How hard can it be?
It's true that at its most basic it can be pretty easy, but to do it well takes rare skills. One of the most common difficulties in bondage modeling is how to convey high energy while tied up. If you just sit there, and especially if you do the "mmphing" in a repetitive monotonous way, it can be really boring. Of course, sometimes someone just looks so hot that they can get away with doing very little but to take it to the next level takes experience and skill.
I believe there really is a "method acting" approach to bondage modeling. If someone gets into the mindset of being a damsel, where they're naturally conveying a sense of fear or peril, and they're focusing on the bound sensations and the gag while having "damsel-y" thoughts in their head, it can be much more believable and natural – as opposed to just going through the motions. I often give people the direction of, "Focus on your wrists and the different sensations and really think about being tied up and what a pickle you're in now." If you try to act like you would act in real life if you were tied up and kidnapped, your actions will be much more believable. But if you sit and grunt repetitively and do nothing it will be dull and low energy. And believe me, I've made these same mistakes myself, and others, many times.
I don't normally like to toot my own horn a lot, but one area where I do excel is in my ability to move across the room or move up and down on furniture while I'm tied up, even while hogtied. This is not an easy thing to do, and not many models can pull it off. Kyra Pixie was always quite good at energetic struggling and moving around but it's a rare skill. And yes, it comes with a price. I've sometimes finished shoots where once I'm untied I just lie on the floor on my back and mutter, OMG! Usually the next day I'm bone tired and my feet hurt. But it's worth it.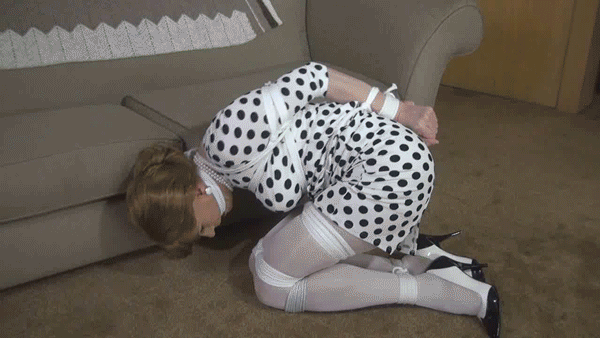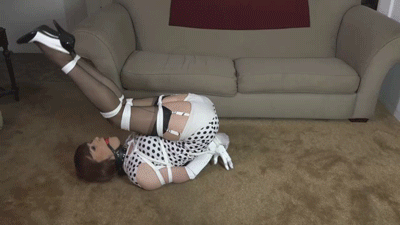 One other tough reality of bondage modeling is that you can get injured doing bondage, and in fact bondage injuries are far more common than people like to admit. I think I've talked before about my own nerve compression injuries, including a bad one several years ago from an overly tight scene that I stupidly pushed through. At this point I don't appear to have any lingering issues from past injuries, but I've heard of a number of female bondage models who've suffered ongoing issues in their limbs and back and neck from being tied up. It can screw you up badly if done poorly or if you're just unlucky. There's always a risk. I sometimes fear that at my age I may be pushing my luck – and it's true I don't generally do things as intensely as I used to, though the recent scene where I was taped up by Damon Pierce would argue otherwise!
So ideally when watching a video you're seeing a convincing and sexy portrayal of a damsel without distracting facial grimaces or weird repetitive grunting or the model just sitting and doing nothing as though she's waiting to get untied. The best models make it seem effortless but I'm sure all of them learned to get better over time. I know some of my early videos I can't stand watching. I just wish I was that young again with what I know now.
And while I don't always get turned on while doing bondage modeling – there are too many technical things to think about! – sometimes it can still be super-hot. When ScorpioBD did one of his super strict gags on me last year in that all-in-white outfit below I was as turned on as I've ever been…at least until my jaw started to ache! But it was still really hot. Here's hoping everyone has moments like that where you get lost in your damsel fantasy. It's worth pursuing those moments!